A Powerful Icon Editor to Create Icons for Websites, Make Favicon and Edit XP Icons
This XP icon editor allows professional and amateur graphic artists alike to create and edit icons with smooth transparency.
With IconXP you can:
Create and edit icons in either standard or custom sizes, in color depths up to 16 million colors
Create and edit icons for Windows XP in 32-bit color depth with 8-bit alpha channel
Open and edit images in sizes up to 3000x3000
Import images in various graphic formats (ICO, ICPR, BMP, JPEG, ANI, CUR, GIF, PNG, WMF, XPM, XBM, WBMP, Mac OS icons and Adobe Photoshop PSD) directly into icons
Export icon images to ICO, ICPR, BMP, JPEG, CUR, PNG, GIF, RC, XPM, XBM, WBMP and Adobe Photoshop PSD files
Capture screen images
Paint images with gradient and chess fill
Modify images with drop shadow, smooth, rotate, grayscale, colorize, roll and mirror effects
Import and export icon color palettes
Sort images inside icons
Modify the default icons Windows uses to display My Computer, Recycle Bin, Internet, Start menu items, drives, shortcut and sharing overlays, system folders and other objects
Customize desktop attributes
Customize folder icons
System requirements: Windows 95/98/ME/2000/NT/XP/2003/Vista/7, 16 MB RAM, Pentium-133 MHz, 2 MB Hard Disk, True Color video mode.

Trial limitations: 30-day trial period, nag screen.

Download:
exe
zip
Click here to order IconXP
Descargar Iconos Editor Para Windows 8
Icon Articles

If you are looking for a powerful tool to take care of all your icon making needs, then Icon XP will the best buy for you; this multi purpose icon editor can be used to make favicon, create icons, play around with existing images by editing XP icons and add stunning effects to Windows XP icons.

The new trend among web designers and website owners to offer their visitors something different and unique in the form of customized icons that are designed by themselves and this trend is really catching on; similarly, using favicons to create an identity for a website is also very popular these days. A favicon is the little image that appears in the browser location bar. Most sites use these favicons to create a brand for their online properties. Keeping in with the demand for exclusive icons and favicons; there are several sites that offer tools that can be used to create icons and make favicon.

For instance, you could use a tool known as IconXP for create XP icons; this is a very powerful icon editor that can not only be used to create Windows XP icons but also images for websites and software applications. The tool is very user friendly and can be used by professionals and amateurs alike to make some of the most stunning graphics. With this tool you can create icons of various sizes and even edit existing images to a standard or custom size.

This is one of the main problems that people encounter when they try to make favicon or create icons from existing images. It often becomes hard to scale down a large image or to scale up a small image; both of which can spoil the picture quality, making the icon look poor. But both these issues can be sorted with IconXP. Not only sizes but also colors can be modified using the program; for instance you can choose color depths up to 16 million colors.

If you have a lot of images; the tool can also be used to manage the files and create optimal storage. While making small icons and favicon, you may have to crop the image to 16x16; this can also be easily accomplished with the tool. If you would like to edit existing Windows XP icons, you can do so and get 32 bit color depth. The tool is powerful that you can actually experiment with images as large as 3000x3000.

You can also import images and create them in various graphic file formats such as GIF, CUR, PNG, ANI, BMP, ICO and others. Similarly, you can also use the tool to export images in various file formats including Adobe Photoshop PSD files. The tool also has the screen capture feature and these images can also be used to make icons.

If you want to make an XP icon with various effects such as smooth, shadow, roll etc, this toll will be the perfect choice. You will also be able to import and export the color palettes so that you get a wider variety of colors. With this tool, you can sort the images inside icons and modify default XP icon. This is your chance to try out the tool for free with the 30 day trial period that iconxp.com is offering so that you can see for yourself the amazing results that can be achieved through this software.


ArtIcons Pro
is our pick. It enables professional and amateur artists to design and edit all kinds of icons. It supports ICO, BMP, PNG, GIF, ICPR, PSD, XPM, XBM, WBMP, CUR, ANI formats. German interface is available.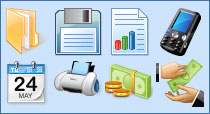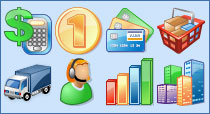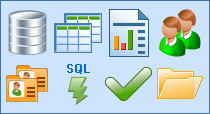 IconLover
allows you to design and edit all kinds of graphics required in the software development cycle, including icons, static and animated cursors and interface elements - all these kinds of graphics can now be designed in a single application.
ArtCursors
allows you to find, create, edit, import and export cursors and manage cursor libraries. It supports static and animated cursors.
Any to Icon
converts BMP, JPG, PNG, GIF, ICO, CUR and other formats into XP icons. This wizard can correct problem icons.